Posted:
June 7th, 2020 |
Author:
prolewave
|
Filed under:
General
|
Tags:
ftp wave
,
guadalajara
,
justiceforgiovanni
|
Comments Off

on On the protests in Guadalajara for Giovanni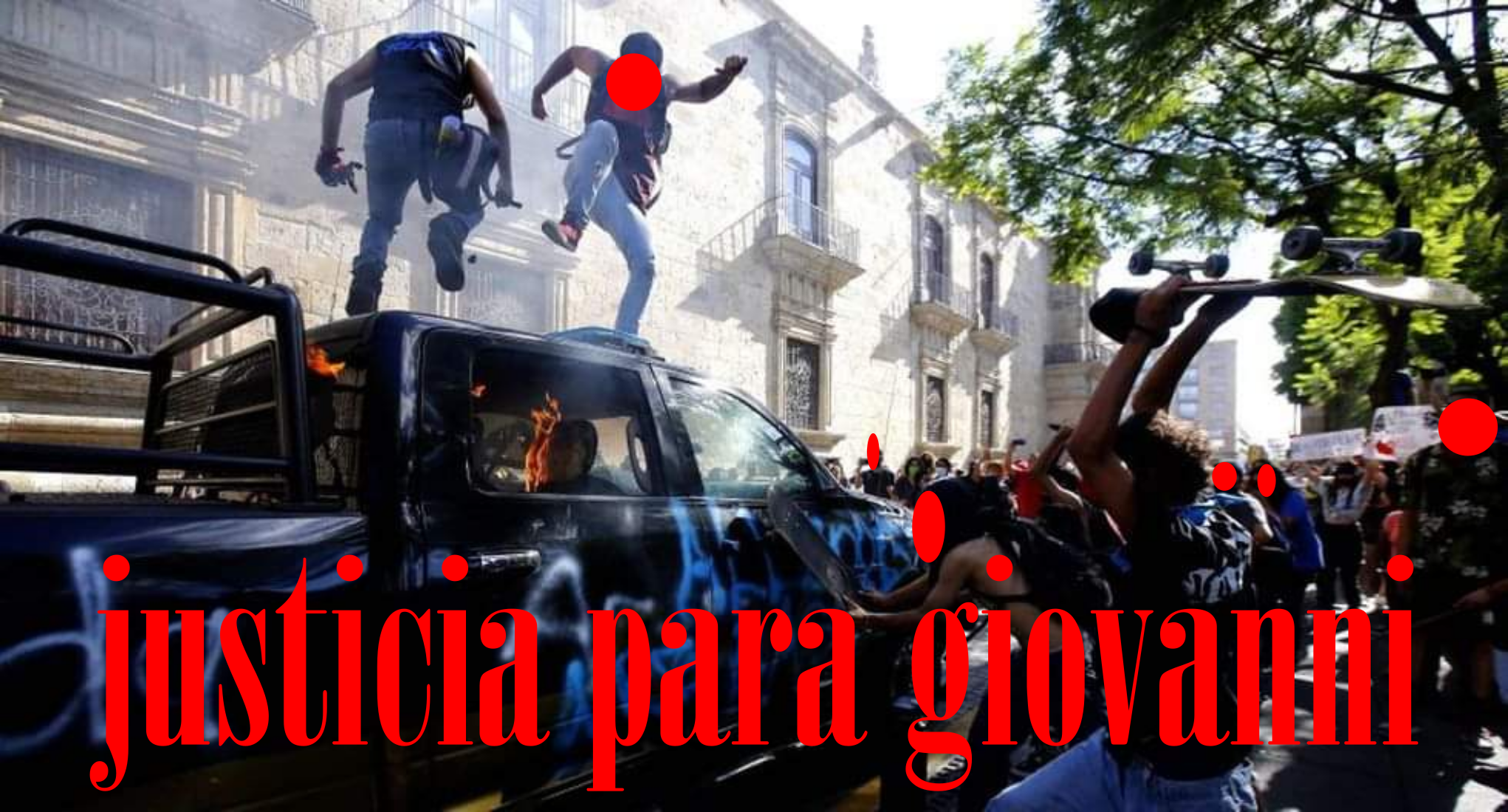 What follows is a reportback from Guadalajara, Jalisco Mexico that was sent to us by a comrade there last night (June 6th). What follows is the English-language translation.
The first demonstration occurred in reaction to the murder of Giovanni Lopez a bricklayer in a rural village (kind of a commuter city) on the outskirts of the city, he was arrested at his door and tortured for not wearing a mouth guard.
It is important to mention that the state governor encouraged this type of action, since he authorized the use of police force against people who did not comply with COVID-19 prevention measures.
Thursday's [June 4th] protests occurred in downtown Guadalajara and ended with a couple of burned-out patrols, some protesters broke into a municipal government building and about 15 of them were arrested and beaten.
Yesterday [June 5th] the situation escalated as the demonstration that was originally planned to take place at the official residence of the state government was moved to the offices of Jalisco's General Attorney to demand the release of Thursday's detainees.
Around 6pm people began to arrive at the rally and several police from the prosecutor's office began to arbitrarily abuct people who were in the vicinity, some of whom were not even going to participate in the demonstration but were just passing by. The area was under siege by riot police from various juridictions (municipal, state, etc.)
These cops were in unmarked vans, dressed as "civilians" (plainclothes, no badge or ID) and armed with golf clubs, bats, some carrying long weapons.
In total about 30 people were kidnapped, beaten and threatened yesterday. Many of them were held in the prosecutor's office without criminal charges and others were taken to the outskirts of the city at various points and had their belongings stolen.
Between yesterday and today, the state government made its official position and took it upon itself to invent culprits to avoid responsibility. They blamed the boycott and destruction on "infiltrated groups" promoted by the president's political party [MORENA], the disappearances and arrests of a group of police who "disobeyed orders of non-violence.
So far most of the abductees and detainees from Thursday and Friday have been located and even released, although there are still three people whose status has not been confirmed. It seems that there were also detainees in today's demonstration, but it is not confirmed yet.
There is also some concern about Giovanni's family, as they were threatened with death by the police officers who killed him and their whereabouts are unknown at the moment.
Attached are some screenshots with twitter accounts that have followed and organized the flow of information during the protests, there you can find testimonies and videos of what happened yesterday.
I think it is important to highlight that both in the demonstrations and in the networks the most active ones have been feminist collectives, even a feminist collective is collecting donations to carry the legal expenses that are required.
Testimony of a young woman who was kidnapped yesterday: https://www.facebook.com/ines.michel/videos/10163630822120301/
Testimony of another youth: https://twitter.com/VdeViva/status/1269419636417875968
---